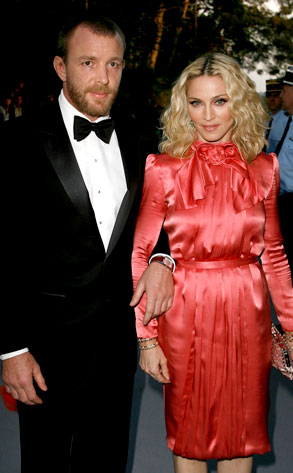 Call it a love diffusion.
Madonna and Guy Ritchie's marriage is on the fritz, with the 50-year-old Queen of Pop and 40-year-old film director announcing their plans to divorce.
"Madonna and Guy Ritchie have agreed to divorce after 7½ years of marriage," their reps said in a joint statement. "They have both requested that the media maintain respect for their family at this difficult time. A final settlement has not been agreed upon yet."
"It is sad," Madonna publicist Liz Rosenberg told E! News.
Word of serious trouble in the Material World bubbled over in August amid reports that she had a dalliance with Alex Rodriguez, helping to wreck his marriage. Ritchie refuted the claims at the 50th birthday party he threw for her, while Rosenberg insisted their marriage "does not need saving."
The two were last spotted together in public in September, when she rang in Guy's 40th birthday in London and attended the premiere of his latest flick, RocknRolla.
Earlier Tuesday, news of the impending split was splashed across British tabs.
The Sun reported the fighting has become incessant. The Daily Mirror said Ritchie took time out from filming his latest movie, Sherlock Holmes, in France to head back to Great Britain to inform his parents that he and Madonna were planning to dissolve their union.
Per U.K. reports, Madonna has enlisted the services of celebrity divorce lawyer Fiona "Steel Magnolia" Shackleton, who supervised Paul McCartney's split from Heather Mills.
Ritchie could make out quite nicely from their breakup, pocketing as much as $100 million of the popster's estimated $500 million-plus fortune since the twosome did not have a prenuptial agreement.
Madonna and Ritchie tied the knot in an extravagant wedding in Scotland in December 2000. They have two children together, 8-year-old Rocco and 3-year-old David, whom they adopted two years ago in Malawi.
Madonna also has a 12-year-old daughter, Lourdes, from a previous relationship with dancer and former fitness trainer Carlos Leon.
This will be her second union to end in divorce; she and Sean Penn called it quits in 1989 after four years of rockiness.
source