8.31.2008
Madonna performing in Cardiff at the start of her Sticky and Sweet world tour
Madonna's massive touring entourage has just got bigger - she's added a top chiropractor to her party posse.
Dr Steven Margolin has joined the 50-year-old singer on her Sticky and Sweet world tour, according to reports.
An insider tells America's Life & Style magazine: "It's going to
be very draining, and she needs him around to aid her in her recovery
time after each show. She'll have daily massages to relax her."
Madonna's touring personnel includes 250 people.
8.30.2008
Thankfully most people nurse their family wounds and jealousies in
private, but Christopher Ciccone's public whinge, Life With My Sister
Madonna, does little to sustain any empathy.
Despite his poor-me stance, the portrait Ciccone paints
of his sister is one that leaves little doubt as to why she's so
successful. She remains disciplined and focused. She insists on
exercise and early nights, and has little time for drugs and alcohol.
She knows who she is and doesn't succumb to narcissistic identity
crises. Her music is bad, her movies worse, but these are not why she's
been famous for decades. If comfortable-shoed feminism put up too many
boundaries, then it's Madonna herself who set us free.
"This isn't a democracy" is one of his sister's favourite phrases,
says Ciccone, but he plays into her dictatorship rather than choosing a
life for himself. Early in the book he warns us: "She will become mad
with pride, with fame, with the oleaginous pandering of the sycophants,
the mindless adoration of the masses." Actually, Madonna doesn't seem
to change much; it's Ciccone who is increasingly struck with celebrity
life, more belligerent and bitter towards the one who provided him with
the free ticket.
The book begins with a rather dull family history where
Madonna is pinned as her father's favourite. Later we're taken through
the siblings' interest in dance, Madonna's arrival in New York, her
knack for embellishing her own mythology and playing for the press. Her
modern dancing ambitions give way to the pursuit of pop-stardom; later
her secondary pursuits are the procurement of agelessness and children.
What seems important to Madonna is not what she does, but how famous it
makes her.
Early on, Ciccone begins to feel a familiar pattern of
abandonment by his sister as she repeatedly reinvents herself. In
contrast, he takes whatever comes his way. He becomes a back-up dancer,
a packer for a gay greeting-card company, an artist, production
assistant, writer, video producer. There are no explanations about why
he drops his own life every time his sister makes a demand. There's
always the sense that he craves the power by association, and it leads
to resentment when she doesn't look his way.
Ciccone's book adds nothing to our knowledge of Madonna.
Like any cheap celebrity magazine, it lures with the promise of
secrets, yet tells you nothing. We are left with a cut-out paper-doll
impression of the singer.
Ciccone confuses a family relationship with a
professional career. He expects help from Madonna, just because of her
position: "I wanted my sister to like my script. I'd mistakenly jumped
to the conclusion that her sisterly enthusiasm and encouragement meant
she wanted to produce it as well."
As her fame rises and allows Ciccone access to the
celebrity party scene, Madonna pulls away from him. He's on first-name
terms with Naomi, Kate, Johnny, Donatella and Demi, but his sister's
position is clear: "Madonna views drug- taking in black and white.
Either you do drugs or you don't."
Ultimately, Ciccone submits to the therapy Madonna
insists on, and in parts, this book feels like a public extension of
that therapy.
Madonna's brother, perhaps understandably, feels he drew the short straw.
SOURCE:
THE TIMES.za
Madonna may have just celebrated her 50th birthday, but the Queen of Pop is apparently far from reaching her peak.
Marquee
Capital, a London-based celebrity collectors firm, is so convinced of
the rising value of the brand of Madonna and other celebrities that it
is to launch the first investment fund dedicated to rock and pop
memorabilia.
The firm, which started as a group of
private collectors with a penchant for Madonna and is currently a
limited company with private investors, is planning to launch the
regulated fund in January.
Seeking to raise £7.5m, the fund will invest in the memorabilia of stars including Madonna, Marilyn Monroe and Jimi Hendrix.
Chetan
Trivedi and four friends have collected more than 150 items of Madonna
memorabilia including her 1985 Material Girl dress valued at £25,000
and the £12,000 wedding dress she wore in the 1996 movie Evita.
Although they are likely to face scepticism that the fund is little
more than a gimmick, they argue that the assets have soared in value in
recent years.
Trivedi said: "Nearly all traditional
investments are falling in value, but the interest in stars like
Madonna is undiminished and their value keeps increasing."
While
UK property rocketed 215 per cent between 1997 and 2007, Fraser's 100
Index of celebrity memorabilia and autographs grew 256 per cent.
source:
UK TELEGRAPH

Lisa Verrico


Let's cut straight to what mattered most. On the Cardiff opening night of her
50-odd-date Sticky & Sweet tour, Madonna looked amazing — and not just for a
semi-centenarian gym addict with access to the best beauticians.


When she pole-danced atop a DJ booth and out-double-dutch-skipped her dancers
during a riotous, electrofied Into the Groove, she could have passed for 25.
When she put on white-plastic, heart-shaped shades — by Moschino, but a pair
could be found in a seaside resort for a couple of quid — she had the air of
a carefree teenager. Later, admittedly, wearing an ill-fitting wig, there
was a hint of the transvestite about her, but a woman with bulging biceps
and thoroughbred thighs always runs that risk.


Fashion-wise, she was more on the money than she has been in years. The
Givenchy leotard in which she arrived, while writhing around a throne, came
complete with cane, fishnets and knee-high boots, and must have sent a
shiver through every kid in the crowd with a middle-aged mother. Fifteen
years ago, Cher had the same effect. Yet when Madonna ditched the
S&M-inspired attire to switch to sweats and silky boxing shorts with
high-knee socks, she looked more comfortable but way cooler. Yes, it was a
throwback to her New York dance days, but the current fad for casual 1980s
fashion gave the outfits a fun, contemporary feel.


Madonna might even have got away with an extrovert gypsy get-up had it not
been for the shimmery, outsized shoulder pads that recalled Gary Glitter.


Still, there was musical muscle in the Gogol Bordello-style segment. Backed by
sawing fiddles, accordion, a bloke on washboard and flamenco guitarists,
Madonna vamped up the Evita ballad You Must Love Me and turned La Isla
Bonita into a Spanish stompalong.


A barrage of tracks from her current album, Hard Candy, often struggled,
despite the distraction of big-budget props, including a boxing ring that
emerged from the floor, a waterfall that cascaded around a podium-dancing
Madonna, and a Cadillac driven down a walkway. Opener Candy Shop was
anonymous electro-pop, while Devil Wouldn't Recognize You was notable only
for the absolute absence of a tune. She's Not Me, however, was surprisingly
tasty techno, during which Madonna defrocked female dancers and dressed as
herself from the past.


A magnificent 4 Minutes would have had fans on their feet without snazzy
screens-on-wheels showing multiple, gyrating Justin Timberlakes.


Madonna was least convincing when she grabbed a guitar for a rock remake of
Borderline and a dreadful Ray of Light marred by shrill, brittle vocals that
surfaced sporadically throughout the 90-minute set. She even spoilt Hung Out
with faux metal guitarist antics that set women in rock back about eight
years.


Madonna's problem perhaps is her overpowering personality — she didn't inhabit
different characters, she smothered them. Forget the silly video footage
from the likes of Kanye West and Britney locked in a lift. The closest any
prop came to eclipsing her was a pair of 40ft-high, flashing, M-emblazoned
curtains, allegedly encrusted with diamanté worth $1m. But even they
couldn't hold the limelight for long.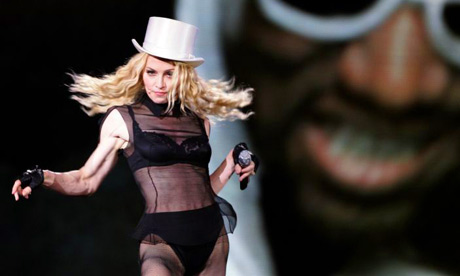 Madonna
Parc des Sport Charles Ehrmann, Nice
Usually,
the first few dates of a world tour staged by Michigan's biggest export
since the automobile are rife with controversy. Last time around, for
2006's Confessions tour, Madonna hung herself from a glittering black
cross. For 1990's Blond Ambition tour, it was simulated masturbation.
Catholic authorities usually make banning noises when Madonna's visa
request comes in.
But this year's Sticky & Sweet world tour
feels different. Less sticky, perhaps, even though this is a hot French
summer night, and the gig-goers of Nice scoff waffles and doughnuts.
The outrage is minimal. Throughout the two hours of her show, watched
by Nice's mayor and Elton John, she fakes one orgasm, kisses a female
doppelganger on the lips, calls us motherfuckers and says: 'Mon fesse'
(my arse) in ropey French. That's about it for fluids'n'sacrilege, two
formerly key ingredients of a Madonna globetrot. The tour began in
Cardiff last weekend not with a bang but with a grumble. She came on
late. Tonight, the screens fail for a song and a half and a guitar is
out of tune for a bit. No scandal here, just technical hitches, for
which she politely apologises.
Is it that Madonna, now 50, has
finally grown up? Is it a newfound piety instilled by kabbalah?
Perhaps. But after a quarter of a century of provocation, we are now
probably unshockable. Madonna would have to fellate a donkey while
dressed as the Pope to get cab drivers tutting now.
No, the
hoopla this time is merely political. Republican senator John McCain
has objected to being part of a montage of world ills that obliquely
aligns him with war, famine, pestilence and Nazi Germany, while his
Democratic rival Barack Obama ends the sequence elided to Gandhi, John
Lennon, ice cream and fluffy bunnies (well, not quite, but you get the
idea). This is the 'Get Stupid' sequence of the gig, in which video
projections of Madonna lecture us about imminent Armageddon, while the
real, sinewy thing executes one of her umpteen costume changes
elsewhere. Pop concerts are obviously not the best arena for nuanced
political debate but, even by stadium standards, this is a point too
crudely made.
Moreover, Live Nation, Madonna's concert
promoters, have issued a guide to Sticky & Sweet, listing the
quantity of freezers, trampolines and lipstick used on tour. While it's
nice to learn of some gofer trawling eBay for vintage pantyhose for Mrs
Ritchie and dancers (100 pairs), this litany of products, designers and
equipment feels de trop. One fan here has T-shirt that reads: 'Liberté,
égalité, jet privé', a French philosophical discourse Madonna might
readily subscribe to.
Still, we do not come to Madonna for
dignified austerity, and the Sticky & Sweet tour delivers on
visuals, pace and sheer physicality. Divided into four suites, each
with its own theme, the show radically remixes old favourites and
showcases the newer songs from her Hard Candy album. 'Candy Shop' and
'Beat Goes on' kick off with Madonna on a throne and in a retro
convertible car, all soundtracked by some headily futuristic R&B.
Pharrell Williams, Timbaland, Kanye West (and, later, Justin Timberlake
and Britney) all do their guest bits on giant video screens while
Madonna and troupe contort below.
In the absence of stickiness,
perhaps the sweetest segment of the night is the homage to Eighties New
York. 'Into the Groove' is reinvented in a blizzard of hip hop
scratching while Madonna skips between two ropes, double-Dutch style.
On the screens, Keith Haring visuals mirror the skipping below. In his
memoir, Madonna's brother Christopher Ciccone accuses his sister of
forgetting her gay roots since marrying Guy Ritchie, whom he portrays
as a casual homophobe. So it is nice to see Haring's work onstage and
the loyal gangs of gay men, lesbians and transsexuals out in support
tonight.
Less successful is the Gypsy interlude, where Madonna
follows her infatuation with New York gypsy punk band Gogol Bordello to
its logical conclusion. 'La Isla Bonita' is transported many miles to
the east, with Madonna gripping a rose in her teeth and galumphing
alongside Romany musicians and dancers.
To be fair, she becomes
more respectful, taking a break from centre-stage to watch them perform
'Doli Doli', a Romanian folk song. But it all ends with 'You Must Love
Me', Madonna playing guitar on a stool and laboriously enunciating the
Evita number. It is ghastly.
Indeed, whenever Madonna picks up
a guitar - which is often - the songs wilt a little. As the loveliness
of 'Ray of Light' disappears under the groans of Madonna's axe, she
increasingly recalls Courtney Love, who was, for a time, grunge's
Madonna. Of course, she can't be all-disco, all the time, but Madonna
is always at her finest singing about dancing while doing just that. So
'Give it to Me' - with its added cheesy rave stabs - brings the fourth
quarter to a euphoric end. The body is where Madonna's true genius
lies; all the head stuff is just a distraction.

she nominated in so many categories:
ACT of 2008
BEST ACT ever
HEADLINER
MOST ADDICTIVE TRACK
The show is November 6th, in LIVERPOOL

Madonna's 27-date world tour kicked off at Cardiff's Millennium Stadium last Saturday
Director reckons she still looks hot at 50
Guy Ritchie is amazed by his wife Madonna's athletic physique.

The film director, who is ten years her junior, reckons she's the fittest woman in the music industry.
'Her legs are Olympic standard,' he says. 'She is in amazing shape. You won't find a fitter bird than her.
'Her legs are so toned. She's fitter than dancers on her tour who are half her age.'

And Guy, 39, says Madonna's concerts are fantastic.

'They are non-stop,' he tells The Sun. 'You get in, she's on and then you have two hours of non-stop entertainment.'
source: NOW Magazine
Madonnasworld comments: WE AGREE, 100%


Dear Madonna fans,

The Material Girl has embarked on her "Sticky & Sweet" Tour and
is currently performing live in several European cities. While
thousands of you attend the show each and every night, our girl is
giving her best to each and everyone of you.

Singing and dancing along with her is a fantastic way to support
her, but there's a little something some of you can do to turn the
experience into the ultimate one. If you're watching the show from the
first front rows, we ask that you please refrain from smoking as it
blows up on the stage.

Thank you for your understanding, we appreciate your help!
from madonna.com





Image caption:
Madonna's list of demands includes a room to house the tour's 3,500 wardrobe items (Keystone)
Pop megastar Madonna will take to the stage for the first time in Switzerland on Saturday before 73,000 adoring fans.
The
singer's Sticky & Sweet Tour rolls into the Dübendorf former
military airfield in canton Zurich with 60 trucks, 15 buses and a team
of 250 people.
The world tour kicked off in Cardiff,
Wales and takes in 50 cities. Tickets for the two-hour Swiss show sold
out in three hours in May – three hours faster than sales for the
Rolling Stones' performance at the Dübendorf venue two years ago.
Ten thousand tickets were set aside for residents living in the local community.
The concert tickets include return travel by train and most of the concert-goers are expected to travel by public transport.
Swiss
Federal Railways is laying on 130 extra trains to cope and after the
two-hour show a non-stop service will run until 2am to take fans home
to the main Swiss cities.
Backstage cocoon
Madonna,
who recently turned 50, brings her own list of demands for each show
and her entourage of 40 people including stylists, hair and make-up
staff, a chiropractor, personal trainer and masseuse.
A special room measuring 100 sq m is built to house the tour's 3,500 wardrobe items.
Backstage
furniture has to be white and air conditioning is completely banned,
whatever the weather. A playroom also must be created for her children.
This, despite the fact that the tour bandwagon is only expected to be in the vicinity for less than six hours.
Also
to hand will be the 12 travelling trampolines used in training by
Madonna and her 16 dancers, four freezers to carry ice packs for
performers, 30 wardrobe trunks and 10 flight cases of medical supplies.
Adrian
Kohler, CEO of Swiss herbal sweet firm Ricola, has offered to hand
deliver lozenges to the singer. Madonna ordered 400 packages of the
sweets for her last world tour.
Multifaceted
It is 25 years since Madonna's career was launched with the hit album Like A Virgin.
Her
current tour is touted as a choreographed rock show that is divided
into four parts: Gangsta Pimp, where she shows off her dominatrix side;
Old School, a homage to the 1980s; Gypsy, and Rave, where her Spanish,
Romanian and far eastern influences surface.
Support will be Hamutsun Serve, a dance animation band whose video caught Madonna's attention on YouTube.
The
tour has already attracted controversy for a segment in which a video
of United States presidential hopeful John McCain is compared to Adolf
Hitler.
Rabbi Marvin Hier, founder of the Simon Wiesenthal Jewish centre in the US described the move as an "insult to all Americans".
Sticky
& Sweet is Madonna's first tour since striking a deal with concert
promoter Live Nation worth an estimated $120 million (SFr131 million)
over ten years. The partnership gives Live Nation a stake of future
music and music-related business she generates, including touring,
merchandising and albums.
swissinfo with agencies

STICKY & SWEET IN NUMBERS
653 hours of rehearsal time for Madonna and the band

69 guitars

20 nationalities represented on tour (including Japanese, Israeli, Russian, Romanian, Australian and Algerian)

16 caterers

16 dancers and 12 musicians

8 major Madonna costume changes during the set (five people are needed to help Madonna change into each new outfit)

3 racks of clothing containing Madonna's stage wardrobe

1 set of crystal ear phones for the DJ
Guy Ritchie Throws an Expensive Party for Madonna




As Michael Jackson celebrates his 50th birthday quietly, Madonna got
expensive paintings and a chic birthday bash from her husband, Guy
Ritchie.



"I bought her two original Hermès drawings of equestrian thingies," he told the UK's Daily Mirror after a screening of his new movie, RocknRolla.



As if the paintings were not enough of a splurge, Ritchie threw an elaborate party at London's Volstead club.



"Trust me," he said, "the party was infinitely more expensive than the paintings." Only for wifey dearest, right?



According to People, Ritchie also denied that he and
Madonna took part in any sort of recommitment ceremony. And he also
emphasized that the two have no such plans in the coming future. "We
won't be renewing our vows," he said, adding jokingly, "I think once
was enough!"

source