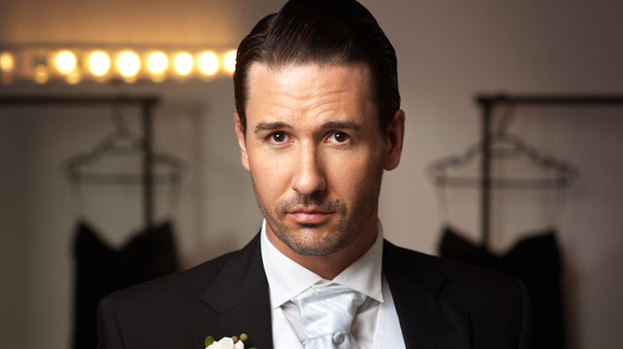 This August in Edinburgh, Australian music theatre star Michael Griffiths is Madonna.
No accent, costume or wig – just Madge accompanying herself at the piano, leading you on a journey through her tough life and tender songs.
We caught up with Michael to find out at what stage the transformation is...
So, the Fringe wheel turns again. Tell us more about your show...
It's the entire Madonna catalogue given cabaret treatment, as if she were in the Great American Songbook.
It's also a little avant-garde because I actually play the Queen of Pop but without any impersonation or costume - just me seated behind the piano with her fabulous tunes and her revealing secrets at my disposal.
I adore her songs and they work a treat away from all the pop production wizardry, but we aren't afraid to have a few laughs at her expense too.
How long has it taken you to concoct – and are you feeling ready for it?
It was commissioned by the Adelaide Cabaret Festival in 2011 and I've since performed it all around Australia, New Zealand and in New York. The show has been evolving along the way and has never been better!
What tip are you using to try and survive a month-long festival, one located in Scotland of all places?
It's my first time so I'm just gonna dive in and hope for the best. I'm only in town for two weeks and will see as many shows as I can squeeze in, when I'm not camping it up as the Queen of Pop.
If you could play any Scottish person in a biopic of their life, who would it be?
I'm putting the finishing touches on my new show Sweet Dreams: Songs by Annie Lennox which opens in Adelaide next week. I play Annie herself and give her songs and the Eurythmics catalogue the full cabaret treatment. She is my idol!
And if any Scottish person could play you in a biopic of your life, who would it be?
Ewan McGregor. I wish!
The Commonwealth Games are coming to Scotland (and specifically Glasgow) next year. If there was a sport that you could – or would like to – compete in for your country, what would it be and why?
Gymnastics. The bodies on those boys are beyond belief.
And finally, what piece of Edinburgh (or Scotland) would you most like to take back with you once the festival's over?
I'll have to tell you that at the end of August!
In Vogue Songs by Madonna performed by Michael Griffiths will be at the Edinburgh Playhouse The Boards on August 8, 9, and 15 to 17. For tickets go to edfringe.com.